Spanish Coastguard Rescues Immigrant Boat in Med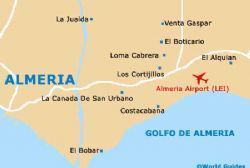 Earlier on Friday the Spanish coastguard reported how they had rescued 28 migrants from a small boat in the Mediterranean and were looking for other passengers who may have left the vessel before it was found.
A message on the Coastguard's Twitter feed read "According to the people who were rescued from the ship, some of their companions were swept overboard during the crossing".
The rescue took place 23 nautical miles southeast of the coast of Almeria, where 28 immigrants, including a pregnant woman and a child were amongst the numbers.
Thousands of migrants attempt to cross the relatively short 9 Mile stretch of water between Spain and Morocco each year, typically using unseaworthy vessels such as inflatable dinghies.
Others attempt to cross in Europe's only land border with Africa by scaling the fences between Morocco and the Spanish enclaves of Ceuta or Melilla.
Random Statistics :
* The United Nations 2014 Population report estimates that 232 Million people in the World live outside the country of their birth - up 50% on 1990
* In 2013 some 14,000 would-be migrants rushed the fences, with 2,000 successfully crossing the border into Spain