Spain Sees Divorce Applications up 12.5% in Q3 of 2014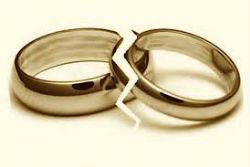 A report by Spain's General Council of the Judiciary has shown the number of divorces being granted increase 12.5% during Q3 of 2014.
Of this number, consensual divorces increased 12.7%, whilst contested divorces were up 12.2%. Separation by mutual consent increased 13.8%, whilst contested separation fell by 6.8%.
Divorce applications - both contested and consensual - submitted between July 1st and September 30th stood at 27,236 in Q3 of 2014 compared to 24,236 in the same period last year, representing a growth of 12.5%.
Of this number, 16,456 were for an uncontested divorce, up 12.7% from Q3 of 2013, and 10,810 applications for a non--consensual divorce, representing an increase of 12.2%.
Divorce application increased across all regions of Spain, with the exception of the Canary Islands and Navarre.
Non-consensual divorces also increased in all territories except in Asturias, Cantabria and the Basque Country.
The number of separations increased by an average of 6.9% - 1,087 by mutual agreement (up 13.8%) whilst the number of contested separations fell to 453 (down 6.8%).
Recommended Reading :
* Spain sees divorce in over 65s double in last 12 months
* Expat argues immunity from Spain's divorce courts