Countdown to change in UK driving licence law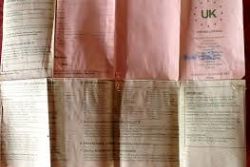 The issue surrounding the legality of holding a British driving licence when resident in Spain has reared it's head once again, with new laws coming into effect on January 19th 2015 specifically concerning the 'old style' (IE Non-Photo-card) licence.
Such 'old style' licences have no expiry date and are printed without any photograph of the holder, and Spanish residents holding such a licence must either apply for a new licence or get their original licence inscribed by the provincial office of the DGT.
This is in accordance with European Community Directive 2006/126/CE.
However a question that is often asked by Expats is whether the 'new style' photo-card type licence is still valid once the holder becomes legally resident in Spain.
The truth is, that whilst the Spanish authorities have no issue with this, it is still a very grey area as far as the UK is concerned : on one hand the law clearly states that the holder must show their current address on the licence (and therefore a Spanish address would not be possible on a British licence), but on the other hand the DVLA themselves recognise EC regulations, who hold that it is acceptable for licences still to be valid across the EU.
Recommended Reading :
* What owners of a Spanish vehicle 7-10 years old need to know
* Spain's most popular driving infractions : DGT report