Spain assumes seats on UN Security Council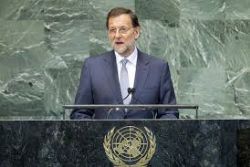 Yesterday - Jan 1st - saw Spain became non-permanent members of the United Nations Security Council until 2017.
Angola, Malaysia and New Zealand also joined the council, as Argentina, Australia, South Korea, Luxembourg and Rwanda left at the conclusion of their terms.
Chad, Chile, Jordan, Lithuania and Nigeria remained as the other non-permanent members, while France, Britain, China, Russia and the United States continue as the five permanent members.
The new members were chosen by the General Assembly in October, when Spain got more votes than Turkey for the last spot reserved for Western Europe and other countries.
Spain has been a Security Council member on 4 previous occasions: 1969-70, 1981-1982, 1993-1994 and 2003-2004, and Madrid had made returning to the body a top foreign policy priority.
The new members will join the Security Council's efforts to deal with a complex agenda including the situations in Syria and Iraq, and the armed conflict in Ukraine.
As Security Council members, they can also bring to the discussion other issues they consider relevant.
Spain's Foreign Minister Jose Manuel Garcia-Margallo has already said the Security Council should get involved in Colombia's peace process.As it has done for decades, the Security Council will continue tackling the Israeli-Palestinian conflict, although without considering a Palestinian initiative rejected on Tuesday by a single vote.
The draft resolution demanded an Israeli withdrawal from all occupied Palestinian territories by the end of 2017.
Chile will hold the Security Council presidency this month. Spain's turn comes in October.
Recommended Reading :
* Spain wins UN security council seat
* Spain sees security council seat