Victims of homophobic attack in court for "indecent exposure"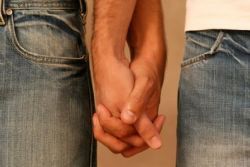 From victims, to the accused. Luis and Ricardo de Frutos can still not quite believe it. On June 28, the married couple reported having suffered a homophobic attack on the Torregarcía beach in Almería, where they were practicing nudism. "When we were called by the courts 8 months later we went there delighted that finally they were going to listen to us," Ricardo explains. "But when we got there, a civil servant told us that we were being accused of crimes of damages and indecent exposure! We couldn't believe it."
Ricardo is 68 years old and suffers multiple sclerosis. His husband, Luis, is 56. The young man that they claim attacked them is aged "around 25." "We were taking a stroll along the seashore when this kid and an older man, whom we later found out was his father-in-law, came running toward us shouting, 'Not one more step you faggots!' The kid punched me and I fell into the water, where he continued kicking me," explains Ricardo. "Luis shouted at him, 'You're going to kill him!' He replied, 'Don't you worry, there's plenty for you too,' and he punched him, causing him to start bleeding like a stuck pig. While all of this was happening, the older man was urging him on, saying, 'Give those faggots a good beating!'"
The couple have been visiting the beach to practice nudism every summer weekend for eight years. "We had never had problems. It isn't a nudist beach, but it's very large and it's common to see nudists there. That same day there was another nudist family with children and a married couple. It was them who called the police and the ambulance after the beating," explains Ricardo.
Ricardo and Luis have been named as official suspects for the offence of indecent exposure, which can bring with it up to a year in jail The judge who dealt with the accusations, María del Mar Cruz Moreno, did not call the victims of the assault to make a statement, but did ask the Almería city council if the area where the incident took place was a nudist beach. "There is no authorization for that use," the council responded. The magistrate then took it upon herself to name Ricardo and Luis as official suspects for the offense of indecent exposure, which can bring with it up to a year in jail.
"According to the Spanish dictionary definition, indecent exposure is a perversion," the couple explains. "We are gay, we are not perverts. This court case hurts a lot more than the blows. A flasher is someone who goes to the main square in Madrid, opens their raincoat and shows their genitals to children – not an older couple who were nude, as many other people were that day. If we had been a straight couple out walking naked that day we never would have been assaulted."
Ricardo and Luis have been together for 26 years and were among the first same-sex couples to get married after the gay marriage law was passed in Spain. They have appealed against the court case and trust that what happened to them will be treated as a "homophobic assault." "This is like what happened with gender violence years ago," they explain. "When women went to file a report, they would be told, 'Go on, get yourself home. You must have done something…'"
Recommended Reading :
* Seville school faces trial of refusing gay couple's child
* UK MEP slams Spain's blame of crisis on Gays