Spain welcomes first refugees from its European quota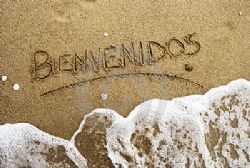 The first group of refugees to be officially accepted by Spain as part of a European deal to relocate 160,000 asylum seekers across the continent arrived at Madrid airport on Sunday night.
The 12 individuals – 11 from Eritrea and one from Syria – are the first members of an initial contingent of 50 refugees whom Spain has agreed to take in.
Seven more Eritreans who had been greenlighted for travel to Spain refused to board the flight, and demanded to be flown to Germany instead.
The flight landed at 9.30pm at Adolfo Suárez-Madrid Barajas airport, where the refugees were greeted by Spain's secretary of state for security, Francisco Martínez, and by the general secretary for migration issues, Marina del Corral.
Hours earlier, Interior Minister Jorge Fernández Díaz made a statement in Barcelona, where he said that the government's goal was not just to accept refugees but to ensure that they became an integrated part of society by offering them "all kinds of attention: healthcare, education, training for the job market..."
With this move, Spain becomes one of the first five European countries to begin the relocation process agreed by the EU earlier this year.
In early September, the Spanish government announced that it would accept the nearly 15,000 refugees that the European Commission allocated to it.
The Spanish government is planning to resettle 854 asylum seekers before the end of the year.
Non-profit groups will take charge of the new arrivals and help cover their basic needs, said the Interior Ministry in a release on Sunday evening.
From Syria to Spain via soccer
Three Eritreans will move to the Basque Country, where the regional government has expressed a willingness to accept around 1,000 refugees fleeing war zones.
"All agencies have made an effort, without turning this into a political issue, thinking simply about the people," said the Basque executive's chief of family policies, José Luis Madrazo, adding that he was surprised at how slow things were moving.
"It's odd that only three people can come," he noted.
But slowness has been a trait of all resettlement efforts in Europe. By early November, only 86 migrants had traveled from Italy to Sweden and Finland. The rest remain caught up in bureaucratic red tape.
In theory, all 160,000 refugees should be in their new homes within the next two years.
Recommended Reading :
* Spain fars Jihadists may enter country alongside aylum seekers
* Spain to present ideas on solving refugee crisis to EU