Murcia landowners fight Corvera 'injustice'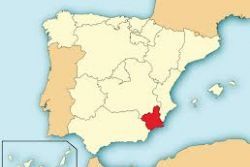 The Supreme Court of Justice for the Region of Murcia has dismissed four appeals filed by a number of farmers who had their land compulsory purchased for the construction of Corvera airport.
The Court held that the compensation paid to them by Aeromur - the concession holder of the facility - was just and fair.
Each previous appeal was marked with claims that the sums paid to each land owner was well below the market value.
One of the appeals stated that the expropriated farm had been valued at 349,000 euros, when the applicant claimed 837,000 euros.
In the four judgments, the Chamber says that it is not possible to verify the claims because the applicants have not distorted with the corresponding technical reports the presumption of correctness and correctness of the price set by the Jury of Forced Expropriation.
In an earlier judgment of the same Chamber, the appeal of another owner was estimated and the valuation was increased by considering that the justification was lower than that which was in justice.
Despite being 'completed' little over a year ago, the new Corvera Airport facility is yet to be brought into operation. Further more, recent increases in investment in the existing San Javier Airport have increased speculation that the status Quo is not likely to change in the near future.
Recommended Reading :
* New route launched San Javier Airport, will Corvera ever open ?