Government to Underwrite 5.6 Million euro loss at Castellon airport for 2012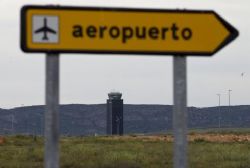 The committee responsible for monitoring the costs involved at Castellon airport through the private concessionaire, Aerocar, have still to meet despite being put in place some time ago.
For 2012 alone the Government has budgeted for subsiding as loss of 5.6 Million Euros at the airport.
In March this year, Aerocar signed a new contract with Airport Concessions, which redefines the responsibilities of each party and guarantees the airport will not lose money in the first eight years of operation. The Government have undertaken to underwrite any losses at the end of each year until then.
As part of this solution the two companies have agreed to the establishment of an airport monitoring committee, composed of three representatives from Airport Concessions and three from Aerocar.
The expenditure control committee was established at the last Board meeting, which is held every couple of months, but has not yet been convened. Sources from Aerocar have since commented that they will meet "when necessary".
The role of the Commission is to compensate Aeromur for any losses, however, the budgets of the Generalitat of Valencia for next allows 5.6 million euros to cover possible financial losses at the airport. The projected losses are based on Aerocar´s own estimations of the scheduled activity at the airport for 2012.
elsewhere, three companies have so far submitted bids to keep airspace around the airport free of birds with a tender budget of 456,521 euros to cover a 3 year period, and will provide a total of 8 Falcons and 3 on-site experts.