Ryanair versus Alicante Airport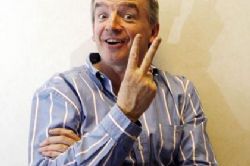 Ryanair is the busiest airline currently operating from Alicante's El-Altet airport. They are obviously well aware of the impact that the decision announced yesterday to slash operations by 50% will have on the airport, which opened a new terminal building and refurbishment to the facilities costing some 629 Million Euros in April of this year.
The inauguration of the new terminal building brought with it a change in operating prorcedure, which insisted on the use of airbridges when boarding all aircraft for reasons of safety. Ryanair has long appealed this decision, due to it being a departure from their original agreement with the airport, and the fact that use of the airbridges is both "unnecessary" and would result in some 2 Million euros per year in costs.
In October the airline's CEO, Micheal O'Leary, slashed winter flights at the airport by almost 50%, and told the airport that if they continued with their plans to enforce the use of airbridges that Summer routes would also be effected.
At a press conference yesterday O'Leary made good on his earlier threat when he formally announced the cancellation of half of its routes for summer 2012, which he estimated would result in a financial loss to the airport of around 30 Million Euros.
Question to AENA : But what are the wider losses in the Tourism and Real Estate sectors likely to be as a result of this ?
The airlines has cancelled a total of 18 domestic routes and 19 international routes, which has resulted in the number of aircraft being based at the airport being reduced from 11 to just 5.
"The only losers are AENA and Alicante," he said O'Leary.
Question to O'Leary : What about us passengers - aren't we losing out here too ?
However, O'Leary also made clear that the decision is "fully reversible" if an agreement can be reached with AENA or if the courts rule that Ryanair can continue to fly from Alicante without the requirement of boarding passengers via use of airbridges.
In November passenger numbers at El Altet fell by 6.2%, with a total of 11.6% fewer flights, largely attributed to Ryanair flights being reduced by 33.6%. The airport's figures would have been much worse if Easyjet had not increased their flights by 10.6%.
However, leaving aside the disappointing statistics for November, the airport saw it's best results ever for the January - November period, at 6.1% up on the same period in 2010.