Ryanair introduce Dusseldorf - Mahon route, cancel Jerez - Madrid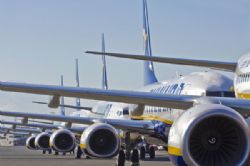 Ryanair has announced it is to introduce a new route between Mahon (Menorca) to Düsseldorf-Weeze (Germany) commencing May 16th, which will on Wednesdays and Sundays.
As expected, the airline wasted no time in reminding passengers of the shortcomings of their competitors, with the head of sales and marketing for Spain, Luis Fernández-Mellado commenting "Ryanair again shows its commitment to the Balearics at a time when Air Berlin are reducing routes, and when the collapse of Spanair has left a number of routes open."
Düsseldorf-Weeze is an important airport for Ryanair because of it's ease of accessability for German, Dutch and Belgian passengers.
However, at the same time the airline also announced that it would be cutting their Jerez to Madrid route as of March 25th, citing a lack of demand, and in order that the airlines can "explore other opportunities" such as the creation of a Budapest - Madrid route.