Ryanair Introduce further new routes to Spain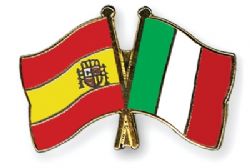 Ryanair have announced new routes from Genoa airport in Italy to three Spanish airports.
Routes are due to commence in June to Valencia three times a week (Tuesdays, Thursdays and Saturdays); twice per week from Madrid (Wednesdays and Sundays); and twice per week from Ibiza (Tuesdays and Saturdays).
The airline's head of Sales and Marketing in Spain, Luis Fernandez-Mellado, told the press that he was delighted to announce these new routes to join these three cities with Genoa, the birthplace of Christopher Columbus.
Once again, Ryanair are keen to squeeze every last drop of publicity possible from this news and have launched their ususal 'celebratory cheap seats promotion' to offer a number of places at 10.99 euros - one way and taxes included - on over 1'000 routes. This offer is available until Midnight Thursday March 15th, and is available for flights every Tuesdays, Wednesdayas and Thursdays in May.