Bankia begin rebranding member cajas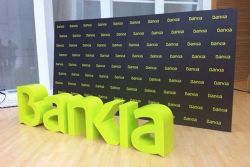 As of today Bankia will begin to bring the branding of it's induvidual members under the same umbrella.
Bankia was formed last year by the merger of Bancaja; Caja Madrid; Laietana Caixa; Caja Segovia; Caja Avila; Caja Rioja and La Caja de Canarias, to form Spain's 3rd largest lender.
Over the course of the next few months the Bankia brand will be brought to the forefront of the 3'250 offices of each induvidual Caja, with their previous identities becoming little more than a nod to their past and being used as secondary branding only in the form of a 'surname'. For example previous Caja Madrid branches will be rebranded with the Bankia corporate colours and logos, but named "Bankia Caja Madrid".
Similar work will also affect the group's 7,000 ATM's.
Coincidentally, Bankia are one of the three finalists in the FACUA Consumer Association's Worst Spanish Business awards, where voting ends today. The result will be made public tomorrow after voting was extended by 1 week due to a tie between the final 3 nominees : Bankia; Vodafone and Movistar.