Benidorm councilor urges Gov't to intervene between El Altet and Ryanair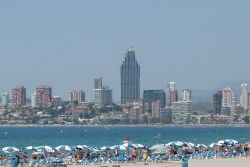 Benidorm's Councilor for Tourism yesterday asked the Government to intervene in the negotiations between Alicante aiport management in Ryanair in a bid to prevent further losses in the number of foreign visitors coming to the area.
Official figures released recently by the Ministry of Development revealled how passenger traffic dropped 12.4% at El Altet during January and February, with a total of 880,136 arrivals compared with 1,004,779 passengers in the same period in 2011.
Whilst AENA officials were quick to put this decline down to a number of other factors - such as the collpase of Spanair, cancellations due to Iberia pilots strikes and the recession - the cut routes by Ryanair have obviously played a major part in this.
Ryanair's routes for the coming Summer season have been slashed to just 18 routes, representing a loss of some 300 flights per week and and an estimated 1.5 Million passengers by the end of the season.
The councilor noted that this will have a negative effect, not just on Benidorm but throughout the entire provinces of Alicante and Murcia.