Iberia warns pilots' strikes threaten future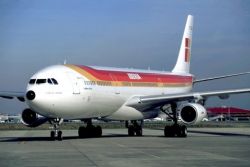 Spanish airline Iberia, part of International Airlines Group, warned on Monday that a fresh round of strikes by its pilots to protest the creation of a low-cost carrier could threaten the company's future.
Iberia pilots launched the first of 30 planned one-day strikes last week, hot on the heels of 12 stoppages held between December and March. Iberia estimates the cost of each strike day at €3 million.
"The pilots' abusive strike, low productivity and high labour costs threaten the future of Iberia," the airline said in a statement on Monday.
Iberia said its pilots' productivity was the lowest in Spain with an average 650 hours of annual flying time compared with the 900 allowed by legislation and the more than 800 average hours of short-haul companies with which Iberia competes.
But pilots' union SEPLA says Iberia Express, which was created to compete with growing low-cost competition on national and European flights, was a threat to jobs and conditions.
Iberia says it is vital to increasing profitability.
Spain's public works ministry has organized a meeting between Iberia and its pilots to discuss the ongoing labour dispute at 1800 local time (1600 GMT) on Monday.
Iberia's pilots briefly called off strike action in March and went into talks with the company, but resumed their protests once negotiations broke down.
Last week, Economy Minister Luis de Guindos warned the conflict could hurt Spain's image abroad.
Iberia was forced to cancel more than 120 flights again on Monday due to the strike.