Patients to contribute towards costs of hospital transport & prosthetics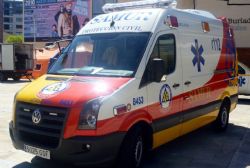 It has been revealed that following last week's news that patients will be required to contribute a greater amount towards any prescription requirements , that further contributions to the state health service will be necessary.
The Official State Bulletin (BOE) today states that the Royal Decree also extends to "ancillary services" such as dietary requirements, prosthetics, and non-emergency transportation that would be used as an outpatient.
The BOE also notes that the Royal Decree requires the regions to adopt these measures before the 30th of June 2012, with those earning more than €100'000 paying 60% of the value of their treatment, those earning between €18'000 - €50'000 paying 50%, and those earning less than €18'000 paying 40%.
Pensioners, currently receiving free treatment, will now be required to pay 10% towards the costs, rising to 20% in the case of Pensioners on high earnings.
The implementation of this measure alone is expected to sav ethe Government €3.5 million per year.