AENA bid to offer duty free at San Javier airport until 2020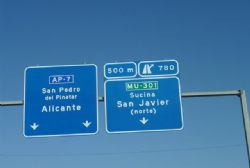 The regional spokesman for the IU-Verdes (Green Party) has expressed his surprise at AENA's decision to submit a tender for the provision of duty free services at Murcia's San Javier airport.
San Javier airport was one of 5 airports included in the contract which the state-owned operator have decided to bid for, along with A Coruña, Asturias, Granada-Jaén, Murcia-San Javier and Santander.
Pujante questioned why, when the contract period lasts until the year 2020, AENA saw the value in bidding to provide such services at Murcia's San Javier airport when the airport has been scheduled for closure in favour of the opening of Corvera airport.
Perhaps AENA knows something that has not yet been disclosed to the great unwashed public ?