Ministry investigation may see Ryanair lose Spain licence for 3 years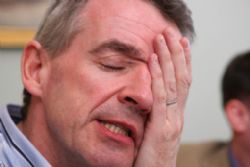 The Ministry of Public Works has opened an investigation into the emergency landings of 3 Ryanair flights at Valencia airport on July 26, which took place after the planes ran out of fuel.
Whilst the State Air Safety Agency (EASA) will be investigating whether the flights were carrying enough fuel, Ryanair has countered that its flights always operate with the fuel levels required by European authorities.
The 3 planes had to perform forced landings at Valencia, after being diverted there from Madrid due to an electrical storm, which was preventing planes from landing.
The Ryanair flights, along with planes from other companies, were then put in a holding pattern. But it was only the Irish firm's planes that had to instigate emoergency procedures given that they were running low on fuel. Two of the planes refueled at the airport before returning to Madrid, while the passengers on the 3rd plane had to remain in the city due to the Ryanair crew exceeding their permitted working hours.
According to the company, the pilots raised the alert when the planes were left with fuel for 30 minutes of flight time. Ryanair says that the planes were kept in the air above Valencia for 50, 68 and 69 minutes, respectively.
The company obliges its pilots to take on the minimum fuel possible in order to save money.
The low-cost airline said that the plane's fuel levels never fell below the allowed minimum, and that they landed 'normally' according to Ryanair spokesman, Stephen McNamara.
"All of the Ryanair flights operate with the fuel levels required by [manufacturer] Boeing and the European Aviation Safety Agency," he continued.
The amount of fuel a plane takes on before a flight is dependent on a number of factors, and is calculated by the pilot before the flight. But there is a question mark over Ryanair's approach to refueling, given that the company obliges its pilots to take on the minimum possible in order to save money if the plane weighs less, it burns less fuel.
The Irish Independent cited memos from Ryanair sent to pilots urging them against 'unreliable excuses' for carrying more than the recommended amounts. 'The most unreasonable excuse is, 'I like to land with three tons so I take the trip plus three tons.' This is not Ryanair policy, this is completely unacceptable, and is not what you are remunerated to do.
The consumer association CEACCU says that if irregularities are found at Ryanair, the company will face the suspension of its operating license for up to 3years, with additional fines of up to 4.5 Million E|uros.