Ryanair : "Our fuel policy is working"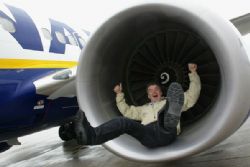 The president of the Irish airline Ryanair, Michael O'Leary, gave an interview to the German Financial Times newspaper on Friday, where he defended the three emergency landings made in Valencia on 26 July due to fuel shortages.
O'Leary referred to the situation as being "exceptional".
The Aviation Safety Agency (EASA) is investigating the incident where 3 aircraft were forced to make emergency landings at the airport due to a lack of fuel.
"Each of the three aircraft had enough fuel on board, over the 90 minutes that are required for a landing. However, we were forced to fly in a circle on Valencia for about an hour, which is not normal," he said.
O'Leary said in the interview that the airline had complied with "The security requirements of the aircraft manufacturer Boeing and the European Aviation Safety Agency (EASA) and that each aircraft had enough fuel".
"Even after the emergency landing we still have enough fuel for 30 minutes of flight as part of our security system," he continued." Our fuel policy is working."
Last week it was revealed how a Ministry investigation into the matter may result in the airline losing it's licence to operate within Spain .