Naked Body Scanners Scrapped By Brussels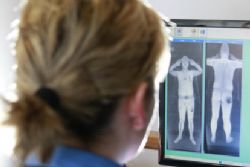 The last remaining full body scanner on trial at Manchester Airport will be removed after Eurozone officials fail to give approval for their use.
The James Bond style scanners, which produce a naked outline of the human form, have been on trial since 2009. However, their use will come to an end in October following the decision from Brussels.
The backscatter body scanners have been controversial. Human rights groups claimed they invade passenger privacy, whilst health watchdogs raised questions about the risks attached given the use of X-Rays to determine an image. Needless to say, parents were also concerned about naked images of their children.
The HPA (Health Protection Agency) assessed the devices and concluded there was only a negligible risk to health. X-Ray doses would be no more than a few minutes on an airplane at high altitude.
Since 2009, only 23 of the millions of passengers who travelled through security refused to use the scanners on health grounds and cultural reasons claims Manchester Airport.
Officials at the airport are baffled by the decision from Brussels. The airport had been anticipating the scanners being approved, however the airport will now have to remove them.
The scanners will be replaced by a 3-month trial of scanners using a technology similar to safety systems used in the US. The new scanners use a radio wave technology which produces a cartoon like image of passengers to reveal any concealed items.