SACYR to force closure of San Javier in favour of Corvera airport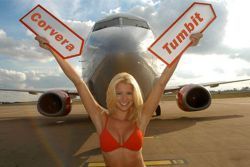 SACYR - the 60% shareholder in Corvera International Airport - is reported to be trying to force the closure of neighbouring San Javier airport in a bid to ensure that the new facility opens with minimal delay.
The company is the majority shareholder in Aeromur - the private consortium behind the new airport - has come under pressure after accepting a €200 million line of credit from the Murcia regional government. SACYR are concerned that they would be left with the debt in the event of Aeromur being unable to repay the loan.
The guarantee was granted for a period of 2 years by the then Minister of Economy and Finance, Inmaculada García, convinced that the airport would be completed before the deadline. Since then the regional government has paid the expenses incurred by the guarantor (1% interest), without which it would have been impossible to get the necessary financing to complete the work.
At the moment Aeromur, together with the regional government and the financial institutions are negotiating the terms for renewal of the guarantee, which has only seen interest payments being met to date - not the repayment of any capital.
Aside from the new management at SACYR losing patience with the financing arrangements, the group also has concerns over the lack of cooperation of the central government. Furthermore, an air corridor for the airport was deemed unusable due to planes having to fly so low that radio signals and radar from the airport was ineffective.
Although the consortium have advised that Corvera airport will open in April, SACYR fear that the possibility of San Javier remaining operational beyond this date may impact upon the potential profitability of the new facility.