Valencia Schoolmums strip for schoolbus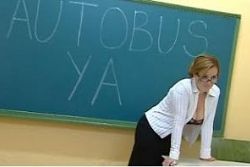 A collective of mums whose children attend a school in Northern Valencia have dediced to emulate the popular UK film, and appear nude in an erotic 2013 calendar to raise funds for a much-needed school bus.
Mothers of students of Evaristo Calatayud School in Montserrat, Valencia, hope to raise €43'000 after the school transportation was cut by the regional authorities, forcing many of the school's 80 students to make their own way to school from as far as 6km away.
In addition to raising the funds, the Mums hope that their actions will bring attention to the drastic cuts to the education system that are currently being imposed - not just by the region of Valencia - but across the whole of Spain.
Earlier this year the Government gave the regional education authorities permission to raise further funds by allowing schools to charge children for the priveledge of eating their own packed lunch on school premesis. Costs for this have varied from region to region from between 3 Euros to 6 Euros. What is perhaps equally annoying is that the cost of a child eating their own packed lunch in Catalonia is reported to be more than the cost of a child taking a full school lunch in the Canary Islands.