Corvera Airport : More Contradictions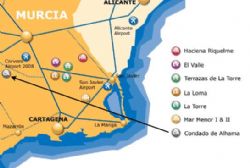 Spain's Minister of Defence, Peter MorenÚs, visited Murcia yesterday to meet with members of the regional government with regards to finalising plans for the opening of Corvera International Airport.
The Minister commented that he was confident plans to formalise a protocol to hand over operations between San Javier and Corvera airports "would happen soon".
Similarly, President Valcarcel last week also commented that Corvera Airport "is about to open".
Previous statements from various members of the regional and national governments have placed an estimated date of opening for the new airport in the late Spring / early Summer.
However, a comment made yesterday by the Regional Minister for Infrastructure, Rafael Catala, looks likely to add further fuel to fire for sceptics.
"All things being equal, Corvera airport will be open by the Autumn, although the process will be complex."
Spring to Autumn ? - If the statement is to be trusted this places a date of opening some 6 months later than most in authority would have us believe.
Catala went on to say how the exact date of opening would likely be agreed betwen meetings between AENA, Aeromur, the Regional Government and the joint Ministries of Defence and Development.