Corvera Airport "on Schedule" - Paramount to commence Feb 28th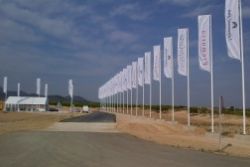 Local and Regional Politicians yesterday met with local representatives of the Hotel and Tourism industries at the House of Culture of Alhama, to discuss strategic tourism projects for the region.
The meeting was also attended by President Valcarcel, Minister for Culture and Tourism Pedro Alberto Cruz, and by the President of Premursa, Jesus Samper.
Spain's Secretary of State for Tourism, Isabel Borrego, where she spoke of the importance of the Paramount Pictures theme park in adding balance to the seasonal nature of tourism in the region currently.
Borrego went on to speak of the importance of tourism to Spain, with some 58 million tourists visiting the country last year, making it the 2nd most visited country, and with tourism accounting for 11% of GDP. The Secretary also spoke of the changing visitor base, with Russia, China and India accounting for increasingly higher numbers of tourists.
With regards to the Paramount Pictures theme park, the project will be key to attracting visitors to the region beyond the busier summer periods, and expected that an increase of around 4% in visitors numbers have been projected throughout the year until 2020.
For his part, Cruz spoke of the importance of Corvera Airport, which will be instrumental in bringing an expected 600'000 tourists to the region each year. He did not expect any delays in the expected opening of the Airport this summer, and confirmed that the Ayuntamiento of Alhama de Murcia have set a date of February 28th to officially start construction for the Paramount project.