Castellon Airport Sale : Clear as Mud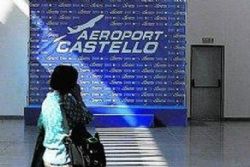 The Vice President and Spokesman for the Generalitat Valenciana, José Císcar, said yesterday that the regional government is "working on the different offers that exist, concerning the possible purchase of Castellón airport", but that they have refused to gove out any further specific details in case "this should harm the process".
Císcar was answering questions put to him by members of the press concerning the possible purchase of Castellon Airport by a Spanish-Libyan investment group, where he went on to explain that the Generalitat would make all the details public as soon as anything had been confirmed.
With regards to whether or not the Government knows the status of any opening date for the airport, he simply replied that the Generaliat were "Unaware of any test flights being planned".
However as can only be expected, the President of Aerocas Carlos Fabra was seemingly reading from a totally different script.
The President of the concession holder of the facility confirmed last week how the Spanish Airports Authority - AENA - would be holding test and calibration flights at Castellon airport between the 16th and 23rd of February.
Last week it was reported how the Ministry of Economy have imposed a deadline of Februrary 28th to reach an agreement to sell the airport .