Drug use in young Spaniards put at 24%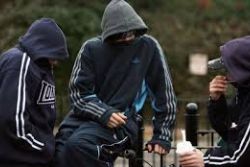 A report by UNICEF has found that Spain has the 3rd highest estimated drug use for the 11 to 15 year old age group.
The report studied a total of 29 Industrialised Countries and found that a country's liberal drug policies generally had very little to do how this influenced the behaviour of young people.
Indeed, as with alcohol consumption, drug use in countries who took a stricter approach to enforcing drugs laws topped the list, having a higher percentage of Marujuana smokers than those whose approach was more lax.
The report found that Canada was named as having the highest percentage of drugs users in the 11 to 15 age group (28%), whist Spain came in 3rd place with 24.06%.
Portgugal - where the smoking of Marujuana is not illegal - was found to have10.6% of all 11 to 15 year olds regulary using the drug.
It is easy to draw parrallels between the findings of the report and Spain's mimimum age for having sex.
Last week's news that Spain had increased the age of consent from 13 - a measure intended to protect younger people from being exploited - came with the revelation that Spain has a teenage pregnancy rate of just 6 per 1'000, whilst the UK, with an age of consent of 16 has a rate of 26.1 per 1'000.