Small earthquake hits Spain near gas storage project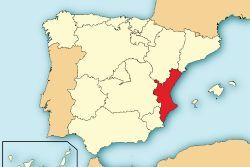 A small earthquake struck Spain's east coast on Tuesday, the strongest ever measured in the area, just days after the government halted work on a big offshore gas storage plant following hundreds of recent minor tremors.
Spain's National Geographic Institute said the earthquake at 05:32 local time measured 4.2 magnitude, the strongest yet in the region around the Gulf of Valencia, a zone not normally known for seismic activity.
The government last week ordered a stop to injections of gas into the European Investment Bank-backed Castor storage plant, while scientists study whether the injections triggered the quakes.
Industry Minister Jose Manuel Soria said on Tuesday there was no confirmed link between the earthquakes and the work on the plant, but seismologists have said they believe there is a connection, because the tremors started at the same time as the injections of gas.
The project involves storing 1.3 billion cubic metres of gas in a depleted oil reservoir under the Mediterranean Sea and sending it via pipeline to Spain's national grid when needed.
Owner-operator Escal UGS has injected so-called cushion gas into the reservoir and withdrawn seawater to get it ready for storage. A phase of injections ended on Sept. 16, and another round of activity was to resume in October but is now suspended.
Escal said the plant had approval from Spain's environmental authorities.
"The entire process has been carried out following existing controls and norms for this type of subterranean storage," Recaredo del Potro, president of Escal UGS, said in a statement on Monday.
Escal UGS, a partnership between Spain's ACS with 66.7% and Canada's Dundee Energy, has raised $1.4 billion on the debt markets to finance the project.
ACS declined to comment further on Tuesday.
An environmental group that has fought the plant since its conception in 2007 said there was no specific study on potential seismic activity from Castor and that it was built near a fault line.
"We insisted on a seismic report. There was none. If there are small earthquakes now, what will happen when the plant is at full capacity?" said Cristina Reverter, spokeswoman for the Citizens Platform in Defense of Senia Lands.
ACS was not immediately able to confirm whether the plant was built near a fault line, and no one was able to comment at Escal or the National Geographic Institute.
GETTING WORRIED
The quake, with an epicenter 35 km southeast of the town of Alcanar, did not cause any damage to buildings but scared residents unaccustomed to seismic activity.
"People are starting to get worried," Alcanar Mayor Alfons Montserrat said by telephone. He has requested an urgent meeting with the Spanish government over the matter.
The Castor offshore submarine gas storage facility aims to begin operating next year and is meant to store 30% of Spain's daily natural gas needs. Spain imports almost all of its oil and gas, and the plant is designed to help it guarantee supplies and keep prices stable.
"This could lead to delays in the project start-up, which is unfortunate since everything was on time up until now," BNP Paribas said in a research note on Tuesday morning, referring to the suspension of the gas injections.
Castor was the first European project to issue so-called "project bonds". Fitch Ratings agency has assigned a BBB+ rating to the 1.4 billion euros in senior secured bonds to finance the plant.
Recommended Reading
• Earthquakes halt Valencia gas project
• Further Earthquakes in Valencia
• Valencia : 49 Earthquakes in last 48 Hours
• Lorca Murcia Earthquakes 'Man Made'