Corvera Airport : The Numbers Don't Add up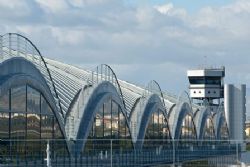 The 2 airports currently serving the Alicante / Murcia area have reported differing trends of passenger numbers over the last 5 years, according to data released by National Airports Operator AENA.
Despite a new terminal building being opened in March 2011 - which doubled the capacity of the previous terminal from 10 to 20 Million passengers per year - numbers have fallen by some 7.5% since 2008.
However, the decrease is in line with national average of all 46 of AENA network of airports across Spain, which showed a 7.8% decrease in passenger numbers between 2008 - 2013.
The story is different at Neighbouring San Javier Airport, Murcia. Barely an hour down the road from Alicante-Elche Airport, San Javier has seen passenger number decrease by more than 5 times as much as their large cousin - coming in at 37% fewer passengers arriving in 2013 than did in 2008.
AENA have been accused of promoting services at Alicante-Elche over San-Javier for reasons of justifying the €600 Mln investment, together with the fact that San Javier Airport is in fact a facility shared with the Military, and whose future is still uncertain.
For their part, the previous concession holder at Murcia's Corvera Airport (Aeromur) has always maintained that San Javier Airport is nothing more than a satellite of Alicante-Elche airport, and that AENA would have no interest in promoting the new facility to it's full potential as it would effectively be competing for business with Alicante.
This is the crux of the argument put forward by Sacyr - the majority shareholder of Aeromur - who maintain that it would be a mistake for the regional government to appoint AENA as the operator of Corvera Airport.
Another problem is that the regional government of Murcia has always maintained that Corvera airport would 'inherit the 1.5 Million passengers per year flying into San Javier' - and add a further 1.5 Million passengers lured away from Alicante-Elche - to reach an estimated 3 Million passengers per year.
With passenger numbers at San-Javier now resembling closer to 800'000 per year, and it looking increasingly doubtful if and how Corvera could actually tempt airlines and passengers alike to turn their backs on Alicate-Elche, it begs the question how many passengers would potentially be interested in using the newer airport at all ?
Recommended Reading
• Corvera Airport : Will San Javier Ever Close ?
• AENA v Corvera Airport
• San Javier Airport WILL close for Corvera : Valcarcel
• Where is Murcia ?