New Flights announced between Manchester - Spain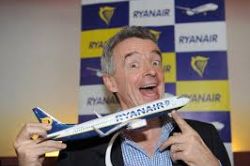 Budget airline, Ryanair, has announced the creation of 3 new routes between Manchester airport and Spain this winter.
From 31st October 2014 until 30th March 2015 new flights will be established between Manchester and El-Prat Barcelona (3 per day); El Matorral Fuerteventura (2 per day) and Las Palmas Gran Canaria (2 per day).
Frequencies of flights between Manchester and Barajas Madrid have also been increased to 5 activities per day.
In typically original style, Ryanair "celebrated" the news by offering 100,000 seats on all flights from Midnight yesterday at the costs of £19.99 yada...yada...
Recommended Reading :
* Ryanair announce new routes from MCR - Spain
* Bride goes beserk on Ryanair flight to Spain