Paramount's London theme park lays down timetable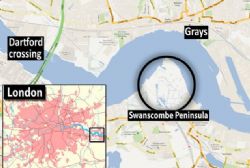 In stark contrast to the slow pace of activity with the Paramount Murcia project over recent years, Paramount's theme park in Swanscombe in the UK is seemingly forging ahead and making great progress.
In July the team behind the proposed London Paramount Entertainment Resort launched the first phase of the consultation on the project earlier in the month.
Over 2,000 people attended 4 exhibitions detailing how the scheme - located just 42 miles from central London - would be built on more than 700 acres of land on the Swanscombe Peninsula, a dormant brownfield site formerly used as a dumping ground for cement dust as part of the once-thriving quarrying industry in the area.
First put forward in 2012 by London Resort Company Holdings, the plans have outlined how the site could be regenerated with a theme park, water park, sporting facilities, an entertainment street, a staff training academy and about 5,000 hotel rooms.
As well as being a tourist attraction, the resort also aims to create an Experience Valley, where it is hoped 200 new businesses could form a hub for the UK's creative industries in the style of Silicon Valley for digital companies in the United States.
London Resort Holding - the contemporary of Premursa for the Paramount Murcia project - have timetable the submission of a final planning application directly to central government next summer, with procurement running from then until summer 2016.
It aims to begin construction in the autumn that year, with the park opening aimed for summer 2019.
The questions some people will be asking themselves is whether Paramount Murcia will be open and firmly established ahead of Paramount London, and whether the 2 parks will be competing for the attention of tourists within Europe.
Recommended Reading :
* Paramount UK in line for Gov't Windfall : A lesson for Murcia ?