Ryanair acts on fuel policy defamation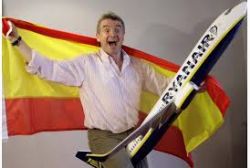 A judge has ruled Ryanair is entitled to some documents it sought for its action alleging it was defamed by remarks relating to "low-fuel emergency landings".
Ryanair has sued the trade union Impact, the Irish Airline Pilots Association, and its president Evan Cullen over an interview with Mr Cullen on Ireland's RTÉ Radio on August 16, 2012. It also alleges defamation from statements allegedly made by Mr Cullen published in the Irish edition of the Sunday Times on September 23, 2012.
Ms Justice Iseult O'Malley said the interview came in a report on the fact that three Ryanair planes made "low-fuel emergency landings" at Valencia airport, Spain, on July 26, 2012, after three pilots issued mayday calls and asked for permission to land immediately. A representative of Ryanair also took part in the broadcast.
Each aircraft had been diverted to Valencia and had had to hold over that airport due to bad weather.
Ryanair claims the words used by Mr Cullen meant, and were understood to mean, that Ryanair's aircraft were, on a number of occasions, in danger because the aircraft in question did not have enough fuel.
In pre-trial applications, Ryanair sought discovery of 28 categories of documents.
Ms Justice O'Malley yesterday ordered discovery of nine categories.
Recommended Reading :
* Ryanair sues Channel 4, Mirror and Mail
* Spain reports on 2010 Ryanair fuel incident