Spain to negotiate increase of U.S. troops at air base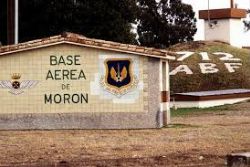 Spain will start talks with the USA about further increasing the number of U.S. troops at an air base in the south of the country, Deputy PM Soraya Saenz de Santamaria said on Friday.
She did not say why Washington sought the changes at the Moron base near Seville. A Defence Ministry spokeswoman had no immediate comment.
But the national daily El Pais said it was to improve vigilance of Islamist militant activity in neighbouring North Africa.
Officials at the U.S. Embassy in Madrid were unavailable for comment.
In March 2014, Spain agreed to an increase in U.S. troops to 850 from 500 at Moron to help support coalition operations against Islamist insurgents in north and west Africa. That agreement expires in April.
U.S. authorities have also used Moron as well as Spain's Rota naval base near Cadiz as part of an operation to combat the current Ebola epidemic in West Africa.
Moron Air Base has been used jointly by Spanish and U.S. air forces since 1953. It served as a springboard for U.S.-led coalition forces in the 1991 Gulf War.
Recommended Reading :
* Spain approves larger US force at base
* Spain strong-arms US Congressman over Gibraltar