Spanish court charges 10 priests with child sexual abuse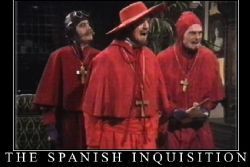 Pope Francis, the head of the world's estimated one billion Catholics, has ordered an investigation into a case which has seen 10 priests and two lay workers charged with child sexual abuse by a Spanish court.
Local media reports that a court in Granada on Tuesday charged 12 men suspected of abusing four teenage boys between 2004 and 2007.
According to the court, Pope Francis telephoned one victim to offer an apology on behalf of the Church last November.
The court said one of the victims, now aged 24, was abused several times across a period of years in the suburbs of Granada.
Pope Francis has taken a special interest in uncovering all cases of sexual abuse in the Catholic Church and has ordered investigations into all suspected cases.
After the Pope's phone call, Francisco Javier Martinez – the archbishop of Granada – and local priests prostrated themselves in front of the altar of Granada's cathedral to ask for forgiveness.
Pope Francis has previously said it was necessary for the credibility of the Church to organize itself against sex abuse and that it must "must weep and make reparation" because "sexual abuse is such an ugly crime."
In 2014 the UN Committee Against Torture in a report said that the Vatican had failed to provide information about the number of children who were sexually abused by priests.
The committee said that there were 3,420 credible allegations of sexual abuse by priests between 2004 and 2013. The Vatican said a total of 848 priests had been defrocked and 2,572 disciplined.
Recommended Reading :
* Spain arrests 3 Priests in Granada sexual abuse ring
* Poll finds Spain disapproves of homosexuality the least