Ryanair refuses to board child in urgent need of a transplant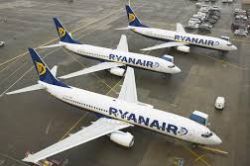 A 10-year-old child who needed to travel urgently to Madrid for a liver and kidney transplant was denied passage on a Ryanair flight and nearly missed his life-saving operation, the family has revealed.
The Irish airline alleged that it could not be held responsible if anything happened to the minor during the flight from the Canary Islands, according to the father's version of events, as told to the radio station Cadena Ser.
Ryanair has now apologized for the incident, and claims that ground staff did not inform the central offices in Dublin about the extreme urgency of the situation.
The incident took place on March 7. The child, whose name is Tueya, had been on a waiting list for two years for a double liver and kidney transplant.
On that day, his family received a call from La Paz Hospital in Madrid: there were two available organs for Tueya, but they had to come fast.
The first flight to Madrid out of the Canary Islands was operated by Ryanair. The family showed up at the airline's desk "65 minutes before departure," according to a company spokesman who talked to EL PAÍS.
"They had a reservation for an Iberia flight, but they wanted to change it in order to leave the island earlier," said the spokesman. "Our handling agent at the desk explained that Ryanair does not sell domestic flights at airports, only online. Despite that, this agent contacted central offices in Dublin (45 minutes before departure time) without specifying the reason for the urgent request."
Tueya's father, however, says that ground personnel refused to allow the child on board on the grounds that there was no time to accredit his state of health. The father said Tueya did not even need a special seat.
The family eventually took an Air Europa flight that departed an hour-and-a-half later than the Ryanair flight.
"Doctors told us we made it with just a half-hour to spare. If we'd had to take a later flight, we wouldn't have made it," said Samuel, Tueya's father.
The child underwent a 10-hour surgery and is now recovering from the operation.
Ryanair has apologized for the fact that its ground personnel "did not deal with this family in a more urgent and understanding manner" but attributed it to their respect for operating procedures and the short deadline.
"We have spoken with them to ensure that situations like this one do not happen again," said a company spokesman. "We have been in touch with the family to offer our sincere apologies for any inconvenience and to wish them the best in this operation."
Recommended Reading :
* Ryanair launches new customer charter to make travel enjoyable
* Ryanair to start flights from Castellon airport