AENA repsonds to Catalan criticism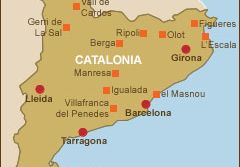 AENA have today announced how they are currently in negotiations with 13 airlines from 11 European countries to establish routes to Reus and Girona airports.
The announcement came in response to comments made yesterday by the Catalonian Minister for Planning and Sustainability, Lluís Recoder, who criticised AENA for driving Ryanair away from the region's Girona, Reus and Lleida airports.
Recoder claimed that between 2000 and 2010 the Generalitat had invested 142 million at Girona and 89 million at Reus, which demonstrated their commitments to the airports.
The Ministry of Development and AENA also reiterated that the Government will establish a committee to promote air routes to Reus and Girona.
AENA had previously been criticised for the high charges at Reus and Girona airports in comparison to Barcelona's El Prat airport, however, AENA has reiterated that rates were revised in early 2011 with reductions of 30% and 40% respectively, making them much cheaper than El Prat.
AENA also maintain that charges at Reus and Girona are 50% lower than the rates of 'similar European airports' ( ? ).