Iberia Pilots Announce December Strike Action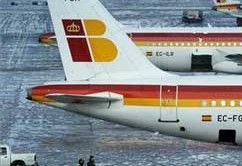 The SEPLA Spanish Airline Pilots Union has announced that Pilots employed by Iberia will go on strike in December.
Union representatives for the airline´s flight attendants and ground crew are due to meet shortly to decide whether to join the strike, however, Justo Peral, Iberia´s SEPLA representative has confirmed that the pilots will continue with their strike regardless of the decision of their colleagues.
Peral also warned that if plans to create a low-cost subsidiary under the name of Iberia Express, that pilots would leave the company and exploit other opportunities in airline industry, such as in the Middle East and Asia.
The creation of Iberia Express, which will commence in Spring 2012 was formally announced in October, and last week named its chief executive, Luis Gallego, formerly Head of Production of the low cost airline Vueling, also owned by Iberia.
"We'll go to China because we refuse to fly in a 'low cost' subsidiary of BA". Peral commented, in reference to IAG - the company created from the merger between Iberia and BA, who he claims want the Spanish arm of the business to do the "dirty work", while BA continues to grow.
Furthermore, IAG´s plans to buy Portuguese airline, TAP, will create two low-cost airlines Southern Europe within the group, competing for the same business, said the union leader.
Pearl confirmed that the strike was not just a threat, and that 400 of the 1,500 pilots employed by Iberia have already applied their certificates of flight hours to find work elsewhere, given the opportunities that exist in the market, he said.
The Union leader told the media how the HNA Group in China had offered Spanish pilots employment at their base in Madrid with a net salary of 186,000 euros a year, and a Vietnamese company has offered positions paying € 220,000 per year.
The action may coincide with the busy Christmas period as Pilots are only required to give 10 days notice of such action being taken, whereas other airport employees have to give 15 days notice, on top of any time being required by the unions to meet with their members and make a decision.
As such no dates for any possible strike action have yet been given.