Reus airport announces arrival of three new airlines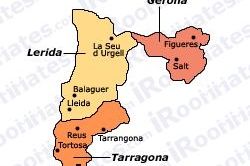 AENA have today announced how 3 new Charter airlines will establish routes to Reus airport this summer, bringing the total number of routes operated from the airport for the summer season to 32.
The summer season officially begins Sunday March 25 and runs until Saturday 27 October.
A total of 60 flights have now been scheuled to take off and land at the airport during April and May, which is expected to result in the arrival of more than 10'000 passengers.
The 3 new airlines are :
CityFlyer Express : From May 5th a flight to Glasgow will be operated every Saturday.
Skywork : As of March 31st a weekly flight to Bern (Switzerland) will run on Saturdays.
Bmibaby : As of May 4th flights will start to Nottingham every Friday.