Iberia, BA and Lufthansa impose credit card booking fee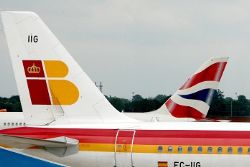 Europa press have reported how sources close to Iberia Airlines have spoken out about the ticket surcharges, charged to passengers.
Iberia Airlines, British Airways (BA) and Lufthansa began to apply an additional cost of €4.5 on domestic flights and €7.5 on international flights for each ticket when paid by credit card, on the 16th of April.
Given that BA also operate routes to, from and within Spain they have applied the same charges as Iberia.
Meanwhile, Lufthansa have applied the charge when flying between Spain and Germany; Switzerland; Austria; Belgium and the UK.
Lufthansa sources said how the surcharge will affect just around 1% of all flights and that it will only affect ticket price from any of these five countries to Spain when paid for by credit card.
The association of corporate travel agents, GEBTA, has criticised the measure - particularly because the three airline represent a high percentage of all flights being taken to, from and within Spain.
GEBTA also criticised the surcharge for being imposed without negotiation or notification, and that the IAG group had hoped that it would pass by unnoticed.
The association warned that this surcharge, together with the additional airport taxes applied earlier this month by AENA, could result in passengers seeing a 10% increase in the price of their airline tickets.