Castellon Airport and other projects to see budget cut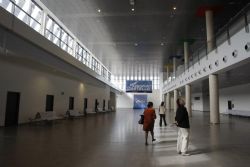 The Regional Minister for Tourism, Culture and Sport, Dolores Johnson, commented today how Valencia's budget for strategic projects will be cut by €93 million (42.4%), to €126 million next year, to match the "reality of the current situation, without giving up the social and economic benefits."
Johnson stressed that the budget for the City of Arts & Sciences, the F1 Motor Circuit, the City of Light and Castellón Airport have already seen their staffing costs cut by 26% staff costs and operating costs by 49%, and that expenditure in "large projects" will be cut by as much as 59%.
The budget for tourism for 2013 has been placed at €34.7 million, with an estimated €14 million alone being set aside to develop and implement a marketing plan to attract tourist to the region.
Perhaps the best "Plan" would be to ensure that Castellon Airport becomes operational early 2013, that the AVE high speed network project progresses, and that the region is represented at the FITUR tourist exhibition next year.
Read further Castellon Airport news by clicking the link >> HERE <<.