Castellon Airport : Another Deadline Passes ?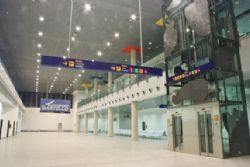 December the 31st - New Year's eve and the last day of the year.
This also marks the self-imposed deadline that Carlos Fabra, the President of Aerocas - the concession holder of Castellon Airport - announced for the opening of the facility earlier this year.
On the 12th of June Fabra told the Castellon Chamber of Commerce that he was on the verge of signing a deal that would see 1'000 flights per year arrive at the airport, which would commence "before the end of year" .
Similarly, on the 22nd of June, the Regional Minister for Tourism for Valencia, Lola Johnson, gave an interview to Radio 9 where she confirmed that the airport would be operational "before the end of the year" .
Barely 2 weeks after his address to the Chamber of Commerce, Fabra went further and named a specific date for when operations would commence and the first passenger airport would touch down at the airport - January the 1st 2013.
Tick tock Sr Fabra...
Although practically nobody believed for one minute that this was ever likely to happen, it does pose another question : Did Fabra himself believe that the deadline could be achieved, or was he simply lying to the public and buying himself time. In short, is he corrupt or incompetent ?