Train Derails in Northern Spain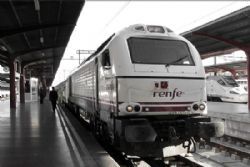 A Train derailment in Northern Spain on Friday evening has left 11 passenger injured.
A Rockfall following days of heavy rainfall caused the first carriage of a train approaching the Cabezon de la Sal Train Station, Santander to leave the tracks and partially plunge into a river it was abou to cross.
Spanish state Rail operator RENFE called divers to the scene, however all passengers were soon accounted for - none of which entered the water.