Further Earthquakes hit Murcia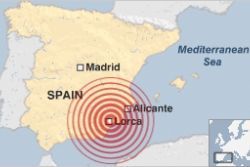 Two further Earthquakes have struck the region of Murcia over the course of the last 24 Hours.
Residents in the town of Lorca were unsettled on Thursday morning of last week when an earthquake measuring 4.3 on the Richter scale, and at a depth of 11km.
According to data provided by the National Geological Institute (IGN), the first of the two seismic events took place around the village of Librilla, about 40km outside the city of Lorca, at 2.01 this morning. Although the activity on measured 2.0 on the Richter scale, its realtively shallow depth of just 10km meant that it was felt on the surface.
The second activity struck at 5.45 this morning to the North-West of the City of Lorca, and measured 3.3 on the Richter scale, and at a depth of 11km.
As yet there have been no reports of injuries, or of any significant damage to property.
Next month - May 11th - will mark the second anniversary of the 2 earthquakes which devastated much of the town and claimed 9 lives. Residents can perhaps therfore be forgiven for watching the events nervously.
Recommended Reading
• Lorca Hit by another Earthquake
• Lorca earthquake aftermath
• Murcia earthquakes could happen again soon
• Lorca earthquakes 'Man Made'