Alicante Airport Passenger Numbers Increase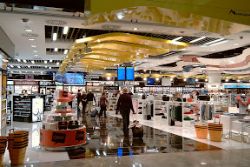 New data released by AENA has revealed a significant increase in passenger numbers flowing through Alicante El Altet airport during May 2013.
As the summer holiday season gets under way, more than 930,000 passengers filed through the airport marking a growth of 12.6% on the same period in 2012.
Alicante airport also recorded more than 3.25 MILLION passengers used the flag ship airport during the period January to May 2013 compared to just over 3 MILLION in the same 5 month period last year.
Overall, airports across Spain have recorded more than 17 million passengers in May 2013, an increase of 1.9% signalling an encouraging start to the tourist season.
The increase in passenger numbers could be due in part to poor weather conditions across Europe, but also significant travel and accommodation deals available are likely factors.
The Spanish tourist industry launched a massive publicity campaign in 2012 promoting the many cultural, historical and cuisine benefits of choosing Spain as a holiday destination.
Additionally, several European states, albeit slow, are emerging from recession signalling an increase in confidence by consumers.