New routes announced between UK and Fuerteventura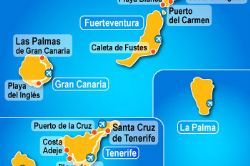 Two new flights between London-Gatwick Airport and Fuerteventura began with the start of the winter schedules earlier this week, with the additional flights taking place on Wednesdays and Saturdays.The new flights increase the total number of operations scheduled between the UK and Fuerteventura to 2.159, with a total of 440,000 available seats.
The new route which began on Wednesday is operated by Norwegian Air, which has scheduled 132 flights (66 arrivals and 66 departures), and 24,552 this winter.
The new route takes the number of UK Airport serving the island to 12 : Birmingham; Bristol; Edinburgh; Glasgow; Leeds; Liverpool; London / Gatwick / Luton, London / Stansted; Manchester; Newcastle and Nottingham.