Illegal Immigrants make another attempt on Morocco-Spain border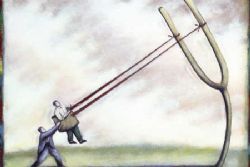 Earlier on Tuesday morning a total of 44 illegal immigrants attempted to climb the 23 foot wire fence across the border between the Spanish Sebta enclave and Morocco.
The early morning rush was prevented thanks to the security system put in place along the coastline, an announcement by the local authorities in the Moroccan city of Tangier read.
A series of attempts to break into the Melilla and Sebta enclaves through the wire fences established by the Spanish government, have been recorded over the year.
last year a total of 4,200 people were though to have crossed the borders between Morocco and Spain illegally.
In 2014 to date more than 5,000 people including Syrian refugees, have already succeeded in crossing into Spain, the UN High Commission for Refugees confirms.
Recommended Reading :
* Spain detains illegal immigrant Ebola suspects
* Spain accused of violating EU border laws in Ceuta and Melilla