Important Information for anybody planning on driving their British car into Spain - whether for a holiday or for a longer period.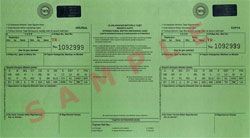 The Green Card (otherwise known as International Motor Insurance Certificate) is the equivalent of a national motor insurance certificate in all of the countries a motorist visits. It is an internationally recognised document that is accepted by the authorities of all countries in which the Green Card is valid (and Spain is one of these countries).
When you first bring your British car to Spain – whether that be on Holiday or for a longer period – it is essential to carry either the Green Card or a Certificate of Insurance in your vehicle at all times. The Green Card will provide easily recognisable proof that you carry the minimum requirement of having third party insurance which is preferable in the event of an accident when travelling abroad. The conditions of your Green Card are only valid when your car is out of the Country (that your Insurance is held in) for no more than 90 consecutive days – after that period has passed then you should cancel your policy and take out another in Spain.
The Green Card in itself does not provide insurance cover but it does certify that you carry the required minimum standard of Insurance to drive in Spain. Insurance against other hazards, such as fire or theft abroad needs to be addressed as a separate issue with the cover provider.
You should apply for a Green card from your Broker or Insurance provider in sufficient time before making your trip overseas. In almost all cases this will be provided in a matter of days, free of charge – however in some cases a small administration fee may be requested.
When you make the request it is also advisable to check the following points:
Is any additional documentation (relating to the Insurance of the Vehicle) required?
What is the extent of the Insurance provided?
What is the procedure in the event of an accident abroad?
In the event of an accident abroad, immediately contact the insurer – if they have a representative in Spain you may wish to contact them instead. The Green Card gives details of the local Green Card Bureau that you should contact in the first instance to get these contact details.
If the accident was caused by an uninsured or unidentifiable car, the victim is entitled, under Community law, to compensation from the motor vehicle guarantee fund for Spain. This is in accordance with the rules in force.
New rules have been introduced to ensure that motorists get rapid compensation for accidents regardless of where they are in the EU. This has made procedures easier and settling claims quicker, with fines being charged on late payments. This applies not only to accidents that happen in the EU but also to accidents between two EU parties in a country outside the EU but which belongs to the Green Card System.