Tourist numbers for 2011 expected to reach 57 Million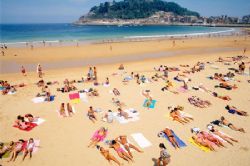 Despite an economic crisis in most of Europe, almost 54 million visitors came to Spain in the first 11 months of 2011, with the final result expected to reach 57 Million by the end of the year - 11 Million more than the country's population.
The Brits accounted for almost 25% of all visitors, at 13 Million, with the Germans coming in second place with 8.6 Million visitors. The remaining visitors came mainly from Scandanavian and other norther European countries.
The cancellation of a number of Holidays in northern Africa as a result of the 'Arab Spring' also saw an increase in last-minute bookings to Spain, which was seen as a safer alternative for those seeking a break.
More than a quarter of all visitors headed for the region of Catalonia, with 13.1 million of Spain's tourists this year. Earlier on this week the region's El Prat airport in Barcelona confirmed that 2011 had been a record year for passengers, standing at 33 Million.
The Islands were also a popular destination, with 10 Million visiting the Balearics and 9.2 Million visitiong the Canaries.
..
A total of 7.5 million visited Andalucía and 4.2 million travelled to Madrid, with the numbers visitingthe capital being boosted thanks in part to the City's hosting of World Youth Day in August.
As a whole tourist numbers for 2011 were 7.7% up on 2010, with only 2007 and 2006 returning better numbers, at 59.2 and 58.4 Million passengers respectively.
However, there may still be a chance that the figiures forecast may be improved upon. Official data has only been recorded for the first 11 months of the year leaving an estimation in place for December - but given that November saw a surprising 3 Million tourists visit the country, there is a chance that the trend may continue - and even escalate - over the Christmas period.
More and more visitors are also now arranging their flights and accomodation independently, as opposed to booking a package holiday through a tour operator.