Conflict of interests at Corvera ?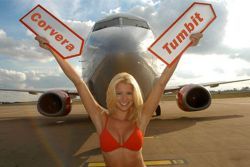 When Murcia's much awaited new Corvera international airport finally becomes operational later this year, it will inherit the worst passenger numbers in six years from San Javier airport.
Despite significant investment on a new runway and a refurbished terminal hall in recent years, passenger numbers flying into San Javier have now reached their lowest number since 2005. Numbers peaked in 2007 at almost 2 million, but have since fallen rapidly to stand at just 1.2 Million - a fall of almost 37%.
With the Paramount Pictures Theme Park at nearby Alhama de Murcia not scheduled to open for a further three years, it will be a while before visitors to the attraction can be relied upon to supply the airport with business. As such Corvera must concentrate on attracting business from passengers who have previously used other airports - with Alicante' El Altet airport being the obvious target.
El Altet, just 90km away, is part of the AENA network of Airports, whilst Corvera remains privately owned by Aeromur, but operated and managed by AENA - is there a conflict of interests going on here ? Have AENA already begun the 'fight' to retain their passenger numbers ?
Two recent and very different peices of information have been made available by different sources, which allow two totally different conclusions to be drawn concerning the furture of El Altet, and therefore the possible success of Corvera : Make you own mind up .....
AENA announce increase of flights to El Altet
El Altet expects falling passenger numbers in 2012