Castellon Airport expected to cost €17 Million in 2013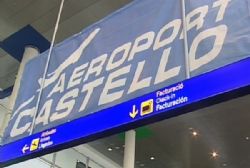 The anticipated budget set aside by the Generalitat Valenciana for their contribution towards the operation of Castellon Airport for the first 6 months of 2013 has been placed at €1 Million.
The airport remains inoperational, yet officials stress that the required permits will be in place early next year, enabling the airport to be fully open in the first half of the year.
The total running cost of the airport - of which the regional government is just one shareholder - for 2013 has been estimated at €17 Million.
The facility opened on March 25th 2011 after a €150 million investment, despite not having the correct permits to allow it to operate.
Airlines are still waivering on making any commitment to fly to Castellon airport, and just last week it was announced how it would not be represented at the FITUR Global Tourism exhibition in Madrid next year.
Read further Castellon Airport news by clicking the link >> HERE <<.