New routes introduced between Almeria - UK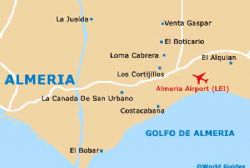 Monarch Airlines has announced the re-launching of flights between Almeria and Manchester airports.
The route will commence on the 4th of May and run twice per week.
The MD of the Airline, Kevin George, announced : 'We are delighted to be resuming the Almeria route for our summer 2013 flights programme from Manchester Airport. Since we last operated the route in 2011 the popularity of our Birmingham/Almeria flight has grown considerably and therefore we thought it timely to bring the route back to Manchester.
Our social media followers will be particularly pleased by the resumption of the flight as it has been the topic of discussion and debate for some time on both Facebook and Twitter and we are always very pleased to be able to respond positively to customer feedback.
The addition of Almeria for summer 2013 expands further our extensive offering from Manchester and we are sure that it will be a popular choice for our customers.".
Speculation had been made over the future of the airport after making losses of 7.9 Billion Euros in 2011 .
Manchester Airport also welcomed the move, commenting that : "Monarch Airlines is a major carrier here and the re-instatement of the Almeria route will be a welcome addition to the summer 2013 schedule from Manchester. Spain remains a popular destination for leisure travellers using our airport and Monarch's continued growth is something we will continue to support in the year ahead."
The airline is still avoiding Tumbit's questions regarding the possibility of introducing flights to and from Corvera airport .