Spain Train Crash Driver to Face Judge Today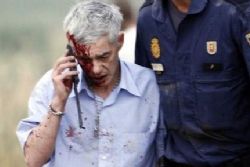 The BBC has reported how the driver of a train that crashed near Santiago de Compostela on Wednesday killing 78 people is due to appear before a judge.
Francisco Jose Garzon Amo has been detained on suspicion of "Reckless homicide" and the judge will then decide whether to press formal charges.
The suspicion is that Garzon was travelling at more than twice the speed limit at the time of the crash, and should have commenced braking manoeuvres over 4km up the track.
Garzon, who left Hospital after being treated for head injuries sustained in the crash, has so far refused to give any statement.
Today's court hearing will be closed but the judge will decide whether to remand the driver as an official suspect, release him on bail, or free him without charge.
If the judge finds enough evidence for a criminal trial, Mr Garzon will be charged and a date set.
Earlier News :
• Spain Crash driver Leaves Hospital, Remains in Custody
• Spain Crash Driver Questioned by Police
• Spain Train Crash Driver's Facebook Comments
• PM's Office Apologise for Train Crash Message
• CCTV Footage of Spain AVE Galicia Train Crash Emerges
• 77 Now Dead in Spain's Worst Train Crash